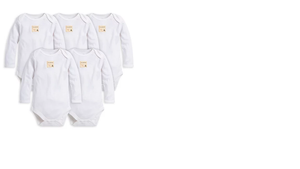 GOTS CERTIFIED 100% ORGANIC COTTON BODYSUITS
GOTS doesn't stand for "gentle on the skin"—but it might as well. The Global Organic Textile Standard is the worldwide leading textile processing standard for organic fibers, and it proves organic fabric is the real deal (and helps you spot the brands using the word unethically). Baby's tender skin takes years to develop the protective quality of an adult's; therefore it's more susceptible to the effects of harsh chemicals. Our GOTS certification ensures the highest level of purity from seed to seam, because we want your seal of approval, too.
COZIEST, SOFTEST COTTON FABRIC
Much like bottles and babysitters, not all organic cotton is created equal. To get ours snuggle-ready, it's combed to remove impurities and short, coarse fibers, then ring-spun to make smooth, high-quality yarn. Trust us: you'll wish your clothes felt as good as these comfortable bodysuits.
LAP SHOULDER CONSTRUCTION & FLAT-LOCK SEAMS OFFER MAXIMUM
We want to make your life easier. The lap-shoulder feature makes dressing baby a breeze with maximum stretch when pulling over your little bee's head. Our flat-lock seams provide smooth, flat edges against their delicate skin. No extra fabric to cause skin irritation or rashes.
NICKEL-FREE, STRONG SNAPS
Nickel is one of the most common allergens in the world, so we leave it out. Our snaps are not only nickel-free, but reinforced with binding to ensure maximum comfort and strength.